The President and CEO of hubby's company, Joe Robles Jr., is retiring today. I think it's sad for the company to see him go. I may not be working at USAA but I know how good of a person and a leader he is. He's just like an average Joe. I've seen him in so many occasions and events at USAA and he is very down to earth and humble person. I really admire his leadership and he has established a successful strategy for USAA. Stuart Parker, a longtime USAA executive and a former Air Force pilot who flew combat missions in the Gulf War, will replace him. Farewell, Major General Joe Robles!

Check out Randy Beamer's look at USAA top boss Joe Robles, who's retiring this week at the age of 69.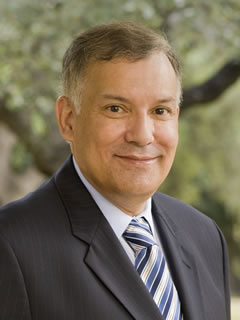 Facts about Joe Robles:


Robles was a USAA board member from 1990 to 1994 while on active duty, and joined USAA in July 1994 as special assistant to the chairman after retiring from the U.S. Army as a major general. He was named CFO and controller in September 1994, and added corporate treasurer to his responsibilities in 1995. He assumed the position of president and CEO in December 2007.




Born in Rio Piedras, Puerto Rico, Robles joined the U.S. Army in 1966. For the next 28 years, he served in a variety of command and staff positions, including active duty posts in Korea, Vietnam, Germany, and Operations Desert Shield/Desert Storm in the Middle East. Most recently, he served as the director of the Army budget and as commanding general of the 1st Infantry Division (the Big Red One).




During his military career, Robles was recognized numerous times for service and honor. He received the Distinguished Service Medal with Oak Leaf Cluster, the Legion of Merit with two Oak Leaf Clusters, the Bronze Star with Oak Leaf Cluster, and the Meritorious Service Medal with Oak Leaf Cluster.




In 2009, The Christian Science Monitor named Robles the "No. 1 Veteran in Business" and American Banker named him "Innovator of the Year." Robles serves on the boards of directors of DTE Energy, the CHRISTUS Santa Rosa Hospital, the CHRISTUS Santa Rosa Children's Hospital Foundation, and the P16Plus Council of Greater Bexar County Foundation. He is a member of the FM Global Advisory Board and the Texas Governor's Business Council. Robles holds a bachelor of business administration degree in accounting from Kent State University and a master's degree in business administration from Indiana State University. He and his wife, Patty, have three children.