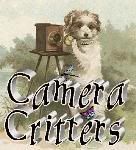 Happy weekend dear people! It is Camera Critters meme time. Here's my entry for this week.
Psssst? Mye! Yes, you! What dyou neyed? I want to take a picture of you. Can you turn around and lemme see what you got. Okwe, nyoo pyoblem!.....tadan!
Okye, how abyout thiss pyose. Say cheese! Opps, I cyan't say tyeese....I haove a nyut on my myouth! lol....:)
Did you get it? lol....Anyhow, I was in our backyard reading while I saw this little fella doing his thing. I thought why not give him a shot!....lol...:) This photo was taken 4 feet away from me.

For more camera critters entries or would like to join us this meme, just click the button above. Have a great weekend!