Santorini is one of the growing hotspots for vacations for all. This once-sleepy island is home to stunning white buildings and plenty to see and do. While very popular for couples, Santorini also has plenty to offer families. Let's take a look at what you should know if you want to plan a holiday here with your family and you can enjoy the perfect trip.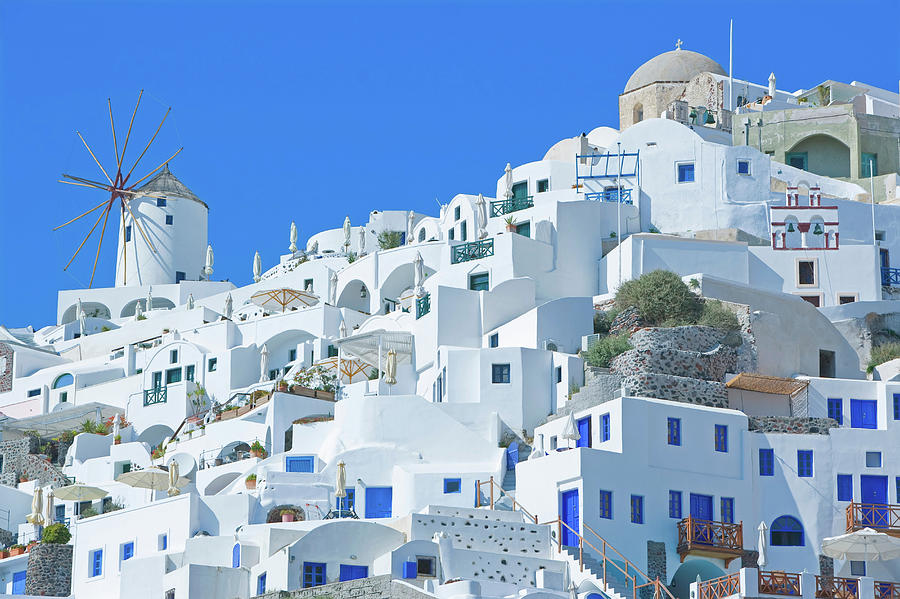 Since this island is so popular, you will want to book your accommodation as soon as possible to find something with everything you need. There are plenty of villas in Santorini which are fitted out for families. No matter where you want to stay or how many bedrooms you might need, there is always something to find.
If you want to find the perfect place as soon as possible,
look over these villas in Santorini
. There might be the ideal place for your family here. When you book well in advance, it also gives you the best opportunity of getting a good deal too.
Chances are you will be headed to Santorini in the high season. That means it is going to be hot, probably much hotter than it will be at home, and you need to make sure that you always have a way of cooling off you and your kids. Whether it is attached to your villa or public at a hotel, having a pool nearby is a fantastic amenity.
You might not always be able to head down to the beach for a swim, especially if the sea is a little rough, but there is never anything stopping you from taking a dive into a pool if one is nearby.
Make sure it has some
child safety precautions
like an alarm if it is on private property. You might want to also set out some ground rules with your children, such as not going in the pool if there is not an adult around to supervise. One of the great things about Santorini is that they have lots of accommodation where they have infinity pools which are stunning and can be a great addition to your holiday, that your kids will love.
Luckily there is an airport on Santorini itself so you will hopefully be able to fly there from your nearest major airport. However, if you have to travel any sort of distance or if you have to make airport changes along the way, you should make sure that your children know how to behave properly in the airport.
There are plenty of tips and tricks out there to keep your children safe in the hustle and bustle of an airport. One of the good basic ones is to buddy them up with other children in your travel party. You should also make sure that they each know where they are going, in terms of gate number. This can help them navigate to you successfully should you become separated.
Once you get there, it will also be really helpful to have the transfers in place. The last thing you want to do is have the kids waiting in the heat dying to get to their destination. To ensure there is availability – book these well in advance.
If Santorini is but one stop on your trip, you may be using the Greek ferries to get around. Sit down with your children and have a chat with them beforehand to explain what travelling on the ferry is likely to be like. Let them know that the sea might be rough, causing them to not feel well, and that the journey is likely to take several hours. The more prepared they are, the more you can relax knowing that a meltdown is unlikely.
Find Kid Friendly Things to Do
Visiting Santorini with just adults might seem easier simply because you don't have to hunt out any activities which will interest the whole family. What interests your kids? If they like geography, you could look up some fun facts about volcanoes and have discussions about how the islands themselves were formed. If they prefer history, well you are in no better place! Every Greek island has its own unique history and its own culture. You should have no problem finding plenty of historical facts and things to do which will delight your budding historians.
Balance each day of activities with a day to rest and unwind. Whether you head to the beach or just spend the day lounging around the villa, it is good to get in a little bit of relaxation while you can. For something fun and a little different, head to the
water park in Perissa
. It is smaller than some you might have visited before, but it still offers the chance for fun and making memories.
In Santorini – you can enjoy foods that you couldn't elsewhere due to the island being situated near the volcano. This gives you a great opportunity to expand the horizons of your children and get them to taste new foods. It's good to get them to try new things and experiences. Don't worry – the wine is also fantastic for the adults if you feel like a tipple during dinner.
As you can see, Santorini is not as adults-only as you might have thought in spite of its reputation. While there are plenty of other islands you could head to with your family, Santorini still offers some amazing opportunities for those looking for a brilliant holiday. Plan well, remember to relax, and you are set for a brilliant holiday in the sun. With a little careful foresight, you will be able to craft a holiday which everyone in your family is bound to remember for a very long time. Start looking into how to make your Santorini dreams come true now.